All the servicesyou would accept at
We are proud to announce another piece of kit to help your vision in the real world….
INTRODUCING THE REVOLUTIONARY INTUITIVE
COLORIMETER 'CURVE'
Hammponds are delighted to announce the release of an exciting, new and fully digital instrument – The Intuitive Colorimeter 'Curve'.
ABOUT COLORIMETRY
The Intuitive Colorimeter was designed by Professor Arnold Wilkins at the British Medical Research Council in 1993.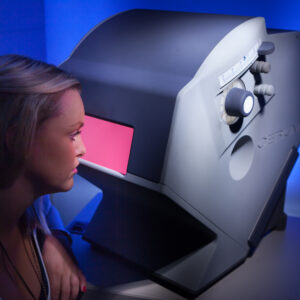 The discovery of the underlying photosensitive condition of Visual Stress had not previously been recognised by vision professionals as a problem that could prevent learning, and that required diagnosis and treatment.
The Intuitive Colorimeter was scientifically designed to present sequentially the colours in colour space, thereby allowing the patient to swiftly identify the precision colour to best alleviate their symptoms.
Working in conjunction with vision specialists, the patient is able to define the optimal setting where visual comfort is noted. The final optimal chosen colour can be prescribed into Cerium Precision Tinted Lenses which may reduce or eradicate symptoms of Visual Stress.
Research showed that offering a large number of colours allowed for optimal results for the patient. The Intuitive Colorimeter™ offers many thousands of colour combinations.
Developed in partnership with the University of Essex, the Curve embodies cutting edge technology, sleek styling, and provides an innovative digital solution for Colorimetry assessment in the modern practice.
Since the launch of the first model of Intuitive Colorimeter 25 years ago, three generations of the instrument have followed a manual assessment process, allowing the parameters of hue, saturation and brightness to be explored systematically. Whilst the 'Curve' still follows a systematic process familiar to the vision professional, the functionality of this fully digital system unlocks additional features such as automated ordering to make for a more streamlined experience for the patient .
Whilst coloured overlays are a useful tool, they may not offer the best long-term solution. The range of colours is limited, compared with the thousands of colour combinations available from the Intuitive Colorimeter™.
Specific coloured lenses are more suitable for copying from the board or from another book. The colour of the lenses is usually different from the colour chosen as an overlay.
Research has shown that the colour chosen as an overlay may not be the same as the precision colour chosen following assessment using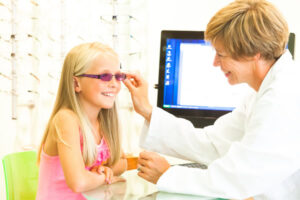 the Intuitive Colorimeter™. Lenses tinted to match a coloured overlay may offer very little benefit.
All precision tinted lenses prescribed by a Cerium vision specialist following a Colorimetry assessment, are tinted at the Cerium special purpose lab, together with any refractive prescription where required. A certificate of authenticity is issued with every pair of lenses.